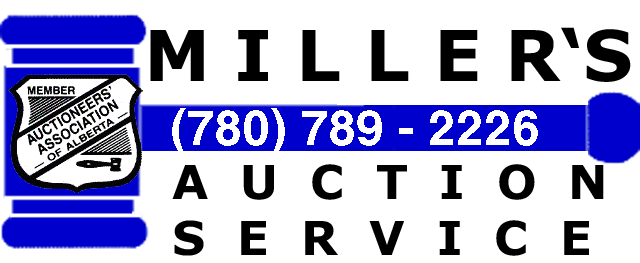 "Servicing the Industry for 20 years"
Unreserved Antiques Collectables and Household Auction Sale
Ben-Bill and Anita Domoslai - COMPLETED
Location: Castor, Alberta

Being held in Castor Community Hall.


Date: Saturday, September 30, 2017 at 10:00 a.m.

Watch For Signs. GST will be charged where applicable. Lunch Available.
--------------------------------------------------------------------------------
Vanity dressers
Multifunction cabinet See Picture
China cabinet hutch See Picture
Night tables
Fern stands
Small tables
Chairs See Picture
Jewellery cabinet
Tabletop showcases
Girls vintage wardrobe
Girls whimsical cabinet
Child's recliner and chair w/footstool
Entry tables
Jewellery
Electric guitar/amp
Quality oil lamps See Picture
Antique lamp parts
Unique kerosene burner lamp
Tape clock See Picture
Long box phones See Picture
Records
Books
Pictures See Picture 1 See Picture 2 See Picture 3
Misc clocks
Crosbie radio
Regulator clock (needs work)
Posters
Misc Radios
Collection old robots See Picture
Booster for old radios
Kitchen gadgets
Mickey Mouse phone
Ornaments
Silver tea set
Black hawk hand grain grinder
Other grinders
Service station memorabilia See Picture
Misc collector watches
Crocks
Jugs
Bottles
Collectable dolls
Collectable white suitcases See Picture
Old calendars
Beer signs
"Flexhaug" paintings
John Stone framed prints
Stampede posters
Small guitars See Picture
Violin/case
Old saxophone/case
Assorted old tools
Pair stuffed pheasants See Picture
Cross cut saws
Cream cans, boilers and tubs See Picture
Animal traps
Fishing gear
Quantity of craft supplies - easels,frames,compressor
Large amount of collector goods See Picture
Many more items - too much to list

Plan on attending this Sale.

For more information call Anita at 780-879-2385 or Millerís Auction Service at 780-789-2226 or 780-920-6738.
www.millersauctionservice.com
---
Terms: Cash or valid cheques only, certified check, bank draft or bank letter of credit. No purchases to be removed until settlement has been made. List is subject to additions and/or deletions. Neither the owner, the auctioneer or staff of the auctioneer shall be held responsible for any loss or accident on or off the auction site.
---
We're Listed on WetaskiwinOnline.com. and CamroseOnline.com.
Look for us there!